Normandy High School
Classes of 1924 - 2012
In Memory
Gene DelGaudio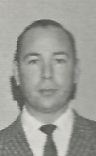 Gene DelGaudio
DelGaudio, Gene 79 - May 18, 2011, Fortified with the sacraments of Holy Mother Church. Dear husband of the late Arline (Sandusky) DelGaudio; dear brother of Jerome Jerry DelGaudio and the late Fred DelGaudio; dear brother-in-law, uncle, cousin, neighbor and friend to many. Gene was a veteran of the U.S.
Army
, Teacher, Coach, and Athletic Director for Normandy High School for 30 years + then was a Hall Monitor for Fort Zumwalt West for 13 years. Services: The Stygar Family of Funeral Service is caring for Gene's Family. Visitation at the STYGAR MID RIVERS Funeral Home, 5987 Mid Rivers Mall Dr. (St. Charles) on Friday, May 20 from 3:00 until 8:00 p.m. The family will then receive friends at Assumption of the Blessed Virgin Mary Parish, 403 North Main St., O'Fallon, MO. 63366 on Saturday, May 21 from 9:30 a.m. until 10:30 a.m. with Celebration of Mass at 10:30 a.m. Private Interment Calvary Cemetery. Memorials to donor's choice preferred.
www.Stygar.com
===================================================================
Gene DelGaudio taught for 30 years at Normandy High School, where he also was a coach and athletic director. When Mr. DelGaudio retired from teaching, he served as a hall monitor for 13 years at Fort Zumwalt West High School. Mr. DelGaudio died Wednesday (May 18, 2011) at St. Joseph Hospital West in Lake Saint Louis. He was 79 and lived in St. Peters. Doctors diagnosed him three weeks earlier with a form of blood and bone cancer, his family said Thursday. Mr. DelGaudio loved being a hall monitor and volunteered for the 6½-hour shifts whenever the other monitors needed time off from their $11-an-hour jobs. He knew many of the 2,100 students by name. They called him "Geno." After the school announced his death, students and former students began calling and sending notes. A 1965 graduate of Normandy High School, where Mr. DelGaudio coached swimming, wrote: "Gene was always a fair and fun man to be around, even when he was yelling at us during swim meets." At Fort Zumwalt High, students asked whether they could attend the funeral. "We have really lost someone special," said Kim Adams, secretary to the principal. Mr. DelGaudio grew up in the Walnut Park area of north St. Louis. His father, a tailor, had immigrated from Italy. Mr. DelGaudio, the second of three brothers, graduated from Beaumont High School and Washington University, where he also earned a master's degree in physical education. Visitation will be from 3 to 8 p.m. today at Stygar Mid Rivers Funeral Home, 5987 Mid Rivers Mall Drive, St. Charles, and 9:30 to 10:30 a.m. Saturday at Assumption of the Blessed Virgin Mary Chuch, 403 North Main Street, O'Fallon, Mo. The Mass will be at the church at 10:30 a.m. Burial will be private at Calvary Cemetery. Among the survivors are a brother, Jerome "Jerry" DelGaudio of St. Charles. His wife, Arline, died in 2007.
Click here to see Gene's last Profile entry.